Monitor the Growth Mindset and Learning Capacity of your employee, team and organization
What is it?
Strengthen the mental health and Growth Mindset of your employees, team and organization based on insights acquired in elite sports.
Growth MindSet Manager is a cloud solution that, based on subjective and objective questions and exercises, dynamically maps the 'growth mindset' of individual employees, teams and the organisation. Every employee receives personalised feedback on 6 factors: motivation, recovery, mental strategies, perfectionism, growth profile and cognitive-visual skills.
This feedback is translated into an overall Readiness To Grow (RTG), a personalized Growth MindSet Index (GMI) and the Learning Capacity Index (LCI) accompanied by personalized advice and an online training environment to further improve your MHI and/or GMI in a sustainable way.
The Growth Mindset Index at Work
The Growth Mindset Index (GMI) System relies on a proprietary AI-based algorithm which analyses and monitors the mental Readiness & Health of Employees, Teams and entire Organizations.
Thanks to a set of objective measurements whose outcomes are analysed using our unique combination of applied neuroscience tools, the GMI system offers immediate feedback and personalized advice on each employee's mental Readiness & Health.
The tool also generates a personalized Growth Mindset Index Passport (GMIP) for each employee, which offers always up-to-date views of their mental Readiness & Health and its progression over time, providing the base for meaningful coaching by managers and leaders.
Also, in countries & industries where regulatory agencies require monitoring of employees' mental health, the GMI System has proven extremely helpful, for example fulfilling the Belgian requirements for dynamic monitoring and prevention of workers psychosocial risks.
Finally and perhaps most importantly, the GMI System has proven extremely helpful in providing organizational data to identify & track traits and characteristics of top & bottom performers, so that intervention and strategic decisions to shape overall on-boarding and training programs tied to the organization's objectives can be made confidently.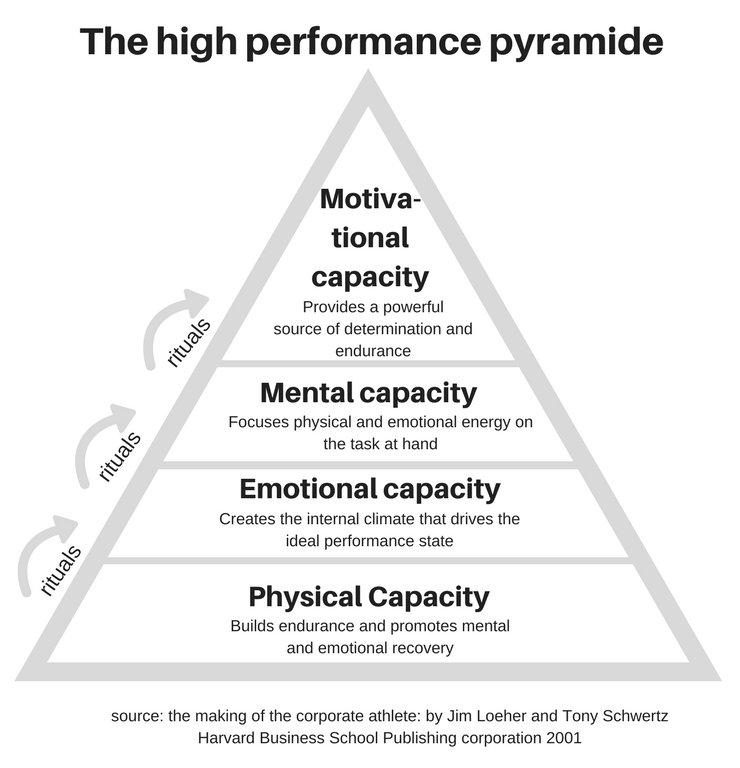 The High Performance Pyramid
The goal of an effective performance training & readiness program is to bring each individual to achieve their full potential and sustain high performance over time: Ideal Performance State.
To achieve it, the GMI System addresses a number of contributing variables across the High-Performance Pyramid of Capacities:
Physical:

to build a strong physical foundation exercise and repetition alone are not enough. Good sleeping and eating habits are integral to effective energy management & recovery as well.

Emotional:

just as positive emotions ignite the energy that drives high performance, negative emotions – frustration, impatience, anger, fear, resentment, sadness - drain and deplete energy.

Mental:

The GMI System aims to enhance cognitive capacities - focus, time management, positive and critical-thinking skills. Meditation can also play a key role as a highly practical method of training attention & promoting recovery.

Spiritual:

energy unleashed by tapping into each individual deepest values and defining a strong sense of purpose also plays a key role.
The High-Performance Corporate Athlete
The Growth Mindset Manager online tool measures and analyses the mental Readiness & Health of the individual Employees, Teams and even the entire Organization.
Employees receive Personalized Feedback on 6 dimensions: Selfdetermination, Recuperation, Mental Strategies, Perfectionism, Growth Profile and Cognitive-Visual Skills.
This feedback is translated into a Growth Mindset Index (GMI) score and a Learning Capacity Index that generates further Personalized Advice for the employee and for the organization (in compliance with GDPR privacy laws):
The Growth Mindset Index thus becomes a highly effective and meaningful score that can be used to Evaluate & Track Employees, Teams and Organizations over time.
A High GMI score indicates that they rank well in the concepts and philosophy of the growth mindset. A high score on the Learning Capacity Index indicates that the individual or group is ready to learn and from a neurological point of view the brain is ready to store-encode-retrieve the learned information.
Continuous monitoring dashboards
By administering tests and measurements at regular intervals personalized to the needs of the organization, the System is able to monitor the GMI progression of Employees, Teams and Organizations on a regular basis, and to display results in easy to consult, customizable dashboards.
Employees, Teams and entire Organizations are constantly challenged to react to change and innovation. The resulting new tasks and responsibilities bring a natural level of stress and fear of the unknown that different employees react to in different want.
The GMI System is a great allay for Managers and Executive Leadership as it allows to regularly monitor the mental Readiness & Health of Employees and take immediate action on to preserve and enhance productivity and long-term success.
For whom?
For organisations and companies and their coaches
The difference in elite sports is made by the mental strength and resilience of the athletes and the team. Elite athletes receive scientific and medical support to increase their mental strength.
Growth Mindset Manager applies these insights in business environments. The mental and cognitive-visual skills are strengthened. Mental health risks can be detected early and the Growth Mindset can be monitored and improved.
Working with Growth Mindset Manager forms the ideal gateway and key for an organization that puts mental health and the growth mindset high on its list of priorities!
Readiness To Grow
Growth Mindset Index & Learning Capacity Index
Based on six scientifically validated factors, we determine the variable growth mindset and the personal learning capacity index of every individual in the organisation. We find out whether there are specific indicators/signals to initiate new learning plans or to adapt the timing of the identified learning plans for certain groups in your organisation. We measure the ideal learning phase relating to the brain functionality and growth mindset of your employees.
The result of this measurement is shown by the Readiness To Grow (RTG). The RTG translates the different aspects that affect the mental health of an individual into one usable and meaningful score.
A high RTG score indicates that the individual or group in your organisation scores well in the field of both growth mindset and learning capacity at the moment the test was taken. Learning readiness is and will always remain a dynamic process with an inherent dynamic nature determined by mental, neurological and psychological aspects. A low RTG score, on the other hand, indicates an increased risk of the individual/group not being capable of storing-encoding-retrieving the offered learning plans and information resulting in a diminished efficiency of the offered learning plans.
Coaching
We train you to be a certified coach
We create clear reporting that leads to advice on the level of the employee, team and/or the organisation. In addition to advice, tailor-made referrals can also be made. We work with your internal coaches and with certified coaches.
On request, we can train (an) internal employee(s) to be (a) certified coach(es) so that they can then support other employees in terms of their mental health.
Everyone active in a performance-based environment can benefit considerably from Growth Mindset Manager. Our goal is the healthy functioning and performance of your body.
Do you want more information? Contact us without obligation
Contact us